View Full Site
Seann William Scott Bio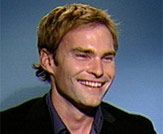 SEANN WILLIAM SCOTT
Date of Birth: October 3, 1976
Growing up in Cottage Grove, Minnesota, Scott decided early on that he wanted to be an actor. Completing high school early, he moved to Los Angeles to pursue his dream career. He soon landed roles in the television series Something So Right, and Sweet Valley High, as well as a role in the TV movie Born Into Exile. He even landed a part in the Aerosmith music video, A Hole In My Heart. But he wasn't always so successful. Scott auditioned for a role on Baywatch, but was rejected.
Scott made his feature film debut with the 1999 summer hit comedy, American Pie (1999). Playing the party-throwing high-school jock, the success of the film landed his name on the Hollywood map and a steady stream of films rolled his way.
His next two films were back-to-back starring roles, in Final Destination (2000) and Road Trip (2000). With a church-going mother, Scott had to prepare and even tried to dissuade her from seeing his films which included swearing and racy scenes. Luckily she doesn't seem to mind.
After filming Road Trip, Scott took a trip of his own, backpacking down under in Australia for a month. But he soon returned to work again with a slew of films including Dude, Where's My Car (2000), American Pie 2 (2001), Old School (2003), Bulletproof Monk (2003), The Dukes of Hazzard (2005) and Role Models (2008). In 2012, he joined the rest of the American Pie gang for the series' fourth instalment aptly titled, American Reunion.
Scott can most recently be seen reprising his role as Crash in the animated sequel Ice Age: Collision Course (2016), and as Doug Glatt in the hockey comedy Goon: Last of the Enforcers (2017).
Filmography:
Goon: Last of the Enforcers (2017)
Ice Age: Collision Course (2016) (voice)
Just Before I Go (2014)
Movie 43 (2013)
Ice Age: Continental Drift (2012) (voice)
American Reunion (2012)
Goon (2011)
Cop Out (2010)
Planet 51 (2009) (voice)
Ice Age: Dawn of the Dinosaurs (2009) (voice)
Role Models (2008)
The Promotion (2008)
Balls Out: The Gary Houseman Story (2008)
Mr. Woodcock (2007)
Southland Tales (2006)
Ice Age 2: The Meltdown (2006) (voice)
The Dukes of Hazzard (2005)
The Rundown (2003)
American Wedding (2003)
Bulletproof Monk (2002)
Stark Raving Mad (2002)
Jay and Silent Bob Strike Back (2001)
American Pie 2 (2001)
Evolution (2001)
Dude, Where's My Car? (2000)
Road Trip (2000)
Final Destination (2000)
American Pie (1999)
<< back