View Full Site
Selena Gomez Bio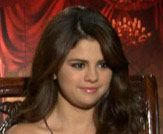 SELENA GOMEZ
Date of Birth: July 22, 1992
Selena Marie Gomez was raised in Grand Prairie, Texas. Her first job was playing the role of Gianna on the TV series Barney & Friends, filmed in Irving, Texas. While on the show, she met Demi Lovato, who became her best friend. Ironically, the two would both go on to become Disney Channel stars, though taking very different routes.
When Selena's time on Barney ended, she played a small role in the movie Spy Kids 3: Game Over (2003), filmed in Texas, followed by the role of Emily Walker on the TV movie Walker, Texas Ranger: Trial By Fire (2005), filmed in Dallas. In 2004, she attended a Disney casting call in Austin and was chosen to audition for a pilot spin-off of Lizzie McGuire in Los Angeles, featuring Lizzie's best friend, Miranda. Selena got the part as Miranda's little sister Stevie, but the pilot wasn't picked up.
Disney wasn't ready to give up on her, however, and cast her in a guest role on their hit series The Suite Life Of Zack & Cody. She then filmed a spin-off for the popular series called Arwin, but again, the pilot wasn't picked up. Selena gained more attention when she played Hannah's rival, pop star Mikayla in three episodes of Disney's mega-hit, Hannah Montana. Finally, she was cast in a project that made the grade.
Disney's The Wizards of Waverly Place turned out to be a hit. Playing the charming but mischievous wizard-in-training Alex Russo, Selena starred in four seasons of the show and filmed a TV film, The Wizards of Waverly Place: The Movie (2009). She's also starred in two other Disney TV movies: Another Cinderella Story (2008) and Princess Protection Program (2009), which co-starred her best friend at the time, Demi Lovato.
In between seasons of Wizards, Selena starred in the 20th Century Fox movie Ramona and Beezus (2010), filmed in Vancouver. She also appeared in Monte Carlo, co-starring with Gossip Girl's Leighton Meester and Katie Cassidy as three girls who are on vacation when one is mistaken for a British heiress. Selena has since continued to land notable roles, like the voice of Dracula's daughter in the animated feature Hotel Transylvania (2012) and a co-lead in the crime drama Spring Breakers (2012), which premiered at the 2012 Toronto International Film Festival. She also starred alongside Ethan Hawke in the thriller Getaway. More recently, she lent her voice to the animated comedy Hotel Transylvania 2 (2015).
When not working, Selena loves sports, especially basketball, surfing and skateboarding. She also enjoys cooking, photography and music. She's learnt to play guitar and drums so she can play with her band, Selena Gomez and the Scene, which won a 2011 People's Choice Award for Favorite Breakthrough Artist. Selena date teen pop idol Justin Bieber on and off for several years. She lives in Los Angeles.
Selena has won over 20 different awards including five Teen Choice Awards, a Young Artist Award, and a People's Choice Award.
Filmography:
Hotel Transylvania 2 (2015)
Behaving Badly (2014)
Rudderless (2014)
Aftershock (2013)
Spring Breakers (2012)
Hotel Transylvania (2012) (voice)
Monte Carlo (2011)
Arthur 3: The War of the Two Worlds (2010) (voice)
Ramona and Beezus (2010)
Arthur and the Revenge of Maltazard (2009) (voice)
Horton Hears a Who! (2008) (voice)
<< back