View Full Site
Seth Rogen Bio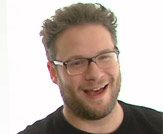 SETH ROGEN
Date of Birth: April 15, 1982
Born in Vancouver, Seth Rogen began doing stand up comedy when he was a teenager, and came in second place in the Vancouver Amateur Comedy Contest at the age of sixteen. Soon after, he moved to Los Angeles where he quickly landed a recurring role on the sitcom Freaks and Geeks and then moved on to write for and appear in the critically acclaimed series Undeclared, both created and produced by Judd Apatow.
Rogen was signed on as a series writer for Da Ali G Show in 2003, and played a small role in Anchorman: The Legend of Ron Burgundy, but his big break came in Judd Apatow's feature film directing debut: The 40-Year-Old Virgin (2005). That led to Rogen playing the lead in Apatow's Knocked Up (2007), co-starring Katherine Heigl.
Rogen also wrote and played a small role in the semi-autobiographical comedy Superbad (2007), about two high school geeks trying to get popular with girls. In 2010, he co-wrote and played the lead role in The Green Hornet. In 2011, he co-produced and starred in the film 50/50 about a 27-year-old man who is diagnosed with cancer and Seth Rogen plays the best friend. The storyline happened to be very close to Rogen—Will Reiser, the film's writer, is Rogen's close friend and when Weiser was diagnosed with cancer, Rogen was by his side to help him battle it. The film is based on their real-life experiences. Rogen can also be seen on the big screen with an appearance in the 2012 documentary Comic-Con Episode 4: A Fan's Hope, opposite Michelle Williams in Take This Waltz (2012) and alongside Barbra Streisand in the comedy The Guilt Trip. He starred alongside Zac Efron in the comedy Neighbors (2014) and alongside James Franco in The Interview (2015). More recently, he starred in The Night Before (2015), The Interview (2015), Neighbors 2: Sorority Rising (2016), and lent his voice to Kung Fu Panda 3 (2016) and Sausage Party (2016).
Rogen married actress Lauren Miller on October 2, 2011.
Filmography:
The Something (2017)
The Masterpiece (2016)
Zeroville (2016)
Sausage Party (2016) Kung Fu Panda 3 (2016) Neighbors 2: Sorority Rising (2016)
Being Canadian (2015) The Interview (2015) The Night Before (2015) The Sound and the Fury (2015) Steve Jobs (2015)
Neighbors (2014)
This Is The End (2013)
The End of the World (2013)
The Guilt Trip (2012)
For a Good Time, Call...(2012)
50/50 (2011)
Take This Waltz (2011)
Kung Fu Panda 2 (2011)
Paul (2011)
The Green Hornet (2011)
Funny People (2009)
Monsters vs Aliens (2009)
Observe and Report (2009)
Fanboys (2009)
Zack and Miri Make a Porno (2008)
Pineapple Express (2008)
Step Brothers (2008)
Kung Fu Panda (2008)
Horton Hears a Who! (2008)
The Spiderwick Chronicles (2008)
Superbad (2007)
Shrek the Third (2007)
Knocked Up (2007)
You, Me and Dupree (2006)
The 40 Year Old Virgin (2005)
Anchorman: The Legend of Ron Burgundy (2004)
Donnie Darko (2001)

<< back