View Full Site
Shameik Moore Bio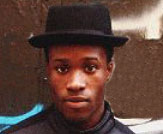 SHAMEIK MOORE
Date of Birth: May 4, 1995
Born in Atlanta, Georgia, Shameik Moore developed a love for music at an early age. His passion instilled in him the desire to express himself through song and dance.
Shameik made a name for himself by uploading videos to YouTube. He would sing covers or perform dance routines that gained him a sizeable following. He released his own mixtape, "I Am Da Beat," which received over 100,000 downloads.
In 2011 Shameik made his TV debut with a guest appearance on Tyler Perry's series House of Pain, but his first big break was in 2012 on a show created and produced by Nick Cannon. Incredible Crew was a live-action comedy series that aired on the Cartoon Network. The show was cancelled in 2013 but the role helped gain notoriety for the young star.
He appeared in the TV movie The Watsons Go To Birmingham (2013) before making his starring debut in the lead role of Malcolm in the-coming-of age story, Dope, produced by Forest Whitaker's Significant Productions. The film stars Shameik as a cool nerd in a tough Los Angeles neighborhood. His musical talents afforded him the opportunity to work with Pharrell Williams on the film's soundtrack. Dope premiered at Sundance, where Shameik was named one of "The 12 Major Breakouts of the 2015 Sundance Film Festival" by Indiewire.
Next up, Shameik has been cast as one of the leads in the Netflix series The Get Down, which premieres in 2016.
Filmography:
Dope (2015)
Joyful Noise (2012)
<< back