View Full Site
Sienna Guillory Bio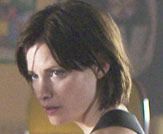 SIENNA GUILLORY
Date of Birth: March 16, 1975
The daughter of Cuban-born guitarist Isaac Guillory, Sienna Guillory was born in London, England. Her dream was to be an actress and she landed her first screen role when she was 16, in the BBC-TV movie Riders. She went on to study acting at the New World School of the Dramatic Arts and the Paris Conservatoire, but became well known first as a model, after being offered a contract by a modeling agency when she was 20. She modeled for clients such as Armani, Dolce & Gabbana and Burberry, and became the face of Hugo Boss' fragrance for three years.
Along the way, Guillory picked up minor roles in TV movies and independent films, but it wasn't until 2001 that she began to get noticed. That year, she played a 19-year-old babysitter accused of murder when the bed of the child she was watching burst into flames in Superstition (2001). She also earned critical acclaim playing the lead role of Jenny Bunn in the BBC-TV movie Take a Girl Like You. Shortly after, she reached audiences around the world with a role in the Warner Bros. wide release The Time Machine (2002), starring Guy Pearce.
Next up was the lead role in the mini-series Helen of Troy for USA Networks, as well as playing Colin Firth's girlfriend in the hit British film Love Actually (2003). Guillory co-starred with Milla Jovovich in Resident Evil: Apocalypse (2004), Alicia Silverstone in Silence Becomes You (2005), Brendan Fraser in Inkheart (2007) and Paul Gross in Gunless (2010).
She also had time to fit in a starring role in a 2004 London stage version of Neil Labute's The Shape of Things at the New Ambassadors Theatre, opposite her husband, Enzo Cilenti.
<< back