View Full Site
Simon Pegg Bio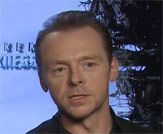 SIMON PEGG
Date of Birth: February 14, 1970
Simon Pegg was a highly successful standup comedian before breaking into film and TV. Born in Gloucester, England, he graduated in 1991 from Bristol university with a BA in Theatre, Film and Television. By 1995, he was a regular on the sketch comedy series Six Pairs of Pants. He continued to work on various comedy series up until 1999, when Spaced, a sitcom he co-wrote and co-starred in with fellow comedian Jessica Stevenson, aired. Shown on Channel 4, the series was a runaway hit and led to a second season being commissioned. Critics and viewers alike loved the show, and it received a bevy of nominations at the British Comedy Awards including Best Sitcom and Best TV Newcomer for Simon, Best Sitcom at both the UK and International BAFTAs and an International Emmy Award nomination.
Pegg played Sergeant William Evans in Steven Spielberg and Tom Hanks' mini-series Band of Brothers as well as roles in feature films such The Reckoning (2003), 24 Hour Party People (2002), The Parole Officer (2001) and Guest House Paradiso (1999).
He teamed up with Edgar Wright to co-write the screenplay for the romantic zombie comedy film Shaun of the Dead (2004), with Wright directing and Pegg playing Shaun. For his work on the movie, he's won the Peter Sellers Award for Comedy from the Evening Standard British Film Awards; a British Independent Film Award for Best Screenplay; and a Bram Stoker Award for Screenplay. Some of his latest films include Hector and the Search for Happiness (2014), The BoxTrolls (2014), Mission: Impossible - Rogue Nation (2015), Absolutely Anything(2015), and Star Wars: The Force Awakens (2015).
In 2016, Pegg reprised his role as Scotty in Star Trek Beyond, and also starred in the animated sequel Ice Age: Collision Course and the thriller Terminal.
On July 23, 2005, he married Maureen McCann. In July 2009, Pegg's wife gave birth to a girl whose godfather is Coldplay's Chris Martin. Pegg is godfather to Apple, Martin and Gwyneth Paltrow's daughter.
Filmography:
Ready Player One (2018)
Terminal (2016)
Star Trek Beyond (2016)
Ice Age: Collision Course (2016)
Star Wars: The Force Awakens (2015)
Absolutely Anything (2015)
Mission: Impossible - Rogue Nation (2015)
Man Up (2015)
Kill Me Three Times (2014)
The Boxtrolls (2014)
Hector and the Search for Happiness (2014)
Cuban Fury (2014)
The World's End (2013)
Star Trek Into Darkness (2013)
Ice Age: Continental Drift (2012)
A Fantastic Fear of Everything (2012)
Mission: Impossible - Ghost Protocol (2011)
The Adventures of Tintin (2011)
Paul (2011)
The Chronicles of Narnia: The Voyage of the Dawn Treader (2010)
Burke and Hare (2010)
Ice Age: Dawn of the Dinosaurs (2009)
Star Trek (2009)
How to Lose Friends & Alienate People (2008)
Diary of the Dead (2007)
Run, Fatboy, Run (2007)
Grindhouse (2007)
Hot Fuzz (2007)
The Good Night (2007)
Big Nothing (2006)
Mission: Impossible III (2006)
Free Jimmy (2006)
Land of the Dead (2005)
The League of Gentlemen's Apocalypse (2005)
Shaun of the Dead (2004)
The Reckoning (2002)
24 Hour Party People (2002)
The Parole Officer (2001)
Guest House Paradiso (1999)
Tube Tales (1999)
<< back