View Full Site
Sofia Vergara Bio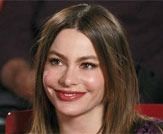 SOFIA VERGARA
Date of Birth: July 10, 1972
Sofia Margarita Vergara was born and raised in Barranquilla, Colombia. She was nicknamed La Toti by her five siblings and many cousins. She was married at the young age of 18 and had her first child, Manolo, when she was 20. The year after her son was born, she divorced her childhood sweetheart and studied pre-dentistry at a university in Colombia. With only one year left, she dropped out when opportunities arose for her in modeling and television.
She is best known for her character Gloria Delgado-Pritchett on Modern Family, but the talented actress has appeared on many other television shows in America, as well as in Latin America. She starred in the Colombian-Ecuadorian version of the television show Desperate Housewives, Amas de casa desesperadas. She has also made guest appearances on Entourage and Hot Properties.
In 2002, her first film role was in Big Trouble starring Tim Allen. She also played roles in Tyler Perry's Meet the Browns and Madea Goes to Jail. She was Odile in The Smurfs with Neil Patrick Harris and worked with several A-Listers, including Katherine Heigl, in New Year's Eve.
She was cast as Lydia in the Farrelly Brothers' The Three Stooges and was also pegged for a character in John Turturro's film Fading Gigolo, as the bisexual lover of Sharon Stone. More recently, she starred in Hot Pursuit (2015) and 2017's The Emoji Movie as the voice of Flamenca.
The naturally blonde actress who dies her hair brunette to better portray Latina characters, was named AskMen's most desirable woman of 2012. On November 22, 2015, she married longtime boyfriend, actor Joe Manganiello.
Filmography:
The Emoji Movie (2017)
Hot Pursuit (2015)
Wild Card (2015)
Chef (2014)
Fading Gigolo (2013)
Machete Kills (2013)
Escape from Planet Earth (voice) (2013)
The Three Stooges (2012)
New Year's Eve (2011)
Happy Feet Two (voice) (2011)
The Smurfs (2011)
Madea Goes to Jail (2009)
Meet the Browns (2008)
Grilled (2006)
Four Brothers (2005)
Lords of Dogtown (2005)
Soul Plane (2004)
The 24th Day (2004)
Chasing Papi (2003)
Big Trouble (2002)
<< back