View Full Site
Steve Carell Bio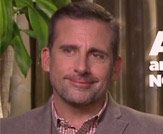 STEVE CARELL
Date of Birth: August 16, 1962
Born in Concord, Massachusetts and raised in nearby Acton, Steve Carell began his acting career in his first grade's Thanksgiving play. After graduating from Ohio's Denison University, he worked for a while as an attorney, but soon decided that acting was more his style.
He joined Chicago's Second City Theatre group and during his time with them was twice nominated for a Joseph Jefferson award. It was there that he met his future wife, fellow writer/performer Nancy Walls (who would go on to star on Saturday Night Live).
Steve's first big TV credit was a 1991 special called Life As We Know It!, which featured Second City's sketch comedy skits. The same year, he made his feature film debut with a small role in the family film Curly Sue (1991). But it wasn't until 1996 that his screen career took off, as a regular on The Dana Carvey Show, followed by a stint on the short-lived sitcom Over the Top. In 1999 he became familiar to viewers as a correspondent for The Daily Show, a job he would hold for the next six years.
During that time, Steve began to work his way up in features such as Tomorrow Night (1998), Suits (1999), Bruce Almighty (2003), Anchorman: The Legend of Ron Burgundy (2004) and Bewitched (2005).
Meanwhile, he also played Edgar in the short-lived Julia Louis Dreyfus sitcom Watching Ellie; Blevin in the equally short-lived NBC sitcom Come to Papa, and for his role as Michael Scott in The Office, an American version of the hit British sitcom, won a 2006 Golden Globe award.
His first starring role in a feature followed when he played the title role in The 40 Year-Old Virgin (2005). He also starred opposite Greg Kinnear and Toni Collette in the black comedy Little Miss Sunshine (2006) and provided the voice for Sammy the Squirrel in the animated feature Over the Hedge (2006). He played secret agent Maxwell Smart in the feature adaptation of the popular 1960s television series Get Smart (2008), starred in the successful comedy Date Night (2010) alongside Tina Fey and voiced the lead character of the incredibly successful animated feature Despicable Me (2010).
In 2010 he announced he was leaving his hit series The Office after five seasons, for which he received six Emmy nominations. But he used the time off to focus on his movie career, starring alongside Ryan Gosling and Emma Stone in the 2011's Crazy, Stupid, Love. and the 2012 hits Seeking a Friend for the End of the World with Keira Knightley and Hope Springs with Meryl Streep and Tommy Lee Jones. More recently, he starred in the comedy Alexander and the Terrible, Horrible, No Good, Very Bad Day (2014) and Foxcatcher (2014), for which he received both Golden Globe and Academy Award nominations. More recently, he starred in the dramatic biopic Freeheld (2015), the financial biopic The Big Short (2015), and the Woody Allen dramedy Café Society (2016).
Steve lives in Los Angeles with his wife, their daughter Elisabeth and son John.
FILMOGRAPHY
Despicable Me 3 (2017)
Battle of the Sexes (2017)
Café Society (2016)
Freeheld (2015)
Alexander and the Terrible, Horrible, No Good, Very Bad Day (2014)
Foxcatcher (2014)
Despicable Me 2 (2013)
Anchorman: The Legend Continues (2012)
Hope Springs (2012)
Seeking a Friend for the End of the World (2012)
Crazy, Stupid, Love. (2011)
Date Night (2010)
Despicable Me (2010)
Despicable Me 3D (2010)
Dinner for Schmucks (2010)
Dr. Seuss' Horton Hears a Who! (2008)
Get Smart (2008)
Dan in Real Life (2007)
Evan Almighty (2007)
Little Miss Sunshine (2006)
Over the Hedge (2006)
The 40 Year-Old Virgin (2005)
Bewitched (2005)
Melinda and Melinda (2005)
Anchorman: The Legend of Ron Burgundy (2004)
Sleepover (2004)
Bruce Almighty (2003)
<< back