View Full Site
Susan Sarandon Bio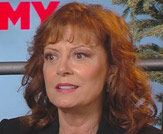 SUSAN SARANDON
Date of Birth: October 4, 1946
When you're the oldest of nine kids growing up in a household in New Jersey, you find a way to stand out from the crowd. This was Sarandon's upbringing and the woman who was studying English at a Catholic University before meeting actor Chris Sarandon and changing her major to drama found a way to stand out and be noticed.
Sarandon got her first film role by accident at 24 when she was accompanying her husband to an audition and was singled out from the crowd to star in Joe. A few years later she became a cult icon when she appeared wet, disheveled and often scantily clad in The Rocky Horror Picture Show.
Like a fine wine, Sarandon's talent improved as she aged and Oscar nominations followed in her wake -- Atlantic City, Lorenzo's Oil, The Client. She's also been nominated for a large number of other mentionable awards, including Emmy, Golden Globe and Screen Actors Guild awards.
In 1996 she won an Oscar for Best Actress in a Leading Role for Dead Man Walking (1995), solidifying her position as one of the premier actresses of her generation. Some of her memorable titles include Stepmom (1998), The Banger Sisters (2002), Shall We Dance (2004), Alfie (2004), Elizabethtown (2005), Wall Street: Money Never Sleeps (2010) and Jeff, Who Lives at Home (2012). She also appeared in That's My Boy (2012) with Adam Sandler, Robot & Frank (2012) with James Marsden, Arbitrage (2012) opposite Richard Gere, Cloud Atlas (2012) alongside Tom Hanks, The Big Wedding (2013) with Robert De Niro and Amanda Seyfried, and the comedy Tammy with Melissa McCarthy (2014).
Some of her more recent works include The Meddler (2015), Mothers and Daughters (2016), the FX series Feud, in which she plays Bette Davis opposite Jessica Lange's Joan Crawford, the animated adventure comedy Spark: A Space Tail (2017) and the drama 3 Generations (2017) with Naomi Watts and Elle Fanning.
She has two sons with fellow actor Tim Robbins. After 23 years together, they decided to go their separate ways in 2009.
Filmography:
3 Generations (2017)
Spark: A Space Tail (2017)
Mothers and Daughters (2016)
The Meddler (2015)
Hell and Back (2015)
The Last of Robin Hood (2015)
The Calling (2014)
Mike & Molly: The Complete Fourth Season (2014)
Tammy (2014)
The Big Wedding (2013)
Snitch (2013)
Hemlock Drive (2012)
Cloud Atlas (2012)
Arbitrage (2012)
Robot & Frank (2012)
The Big Wedding (2012)
That's My Boy (2012)
Jeff, Who Lives at Home (2012)
Irwin & Fran (2012)
The Company You Keep (2012)
Robot and Frank (2012)
Wall Street: Money Never Sleeps (2010)
Peacock (2009)
Solitary Man (2010)
The Lovely Bones (2010)
Leaves of Grass (2009)
Speed Racer (2008)
Enchanted (2007)
Bernard and Doris (2007)
In the Valley of Elah (2006)
Mr. Woodcock (2007)
Irresistible (2006)
Elizabethtown (2005)
Romance & Cigarettes (2005)
Tibet: Cry of the Snow Lion (2004) (voice)
Alfie (2004)
Shall We Dance? (2004)
The Banger Sisters (2002)
Moonlight Mile (2002)
Igby Goes Down (2002)
Cats & Dogs (2001) (voice)
Time of Our Lives (2000)
Rugrats in Paris: The Movie (2000) (voice)
Light Keeps Me Company (2000)
Joe Gould's Secret (2000)
Cradle Will Rock (1999)
Anywhere But Here (1999)
Twilight (1998)
The Magic Hour (1997)
Stepmom (1997)
James and the Giant Peach (1996)
The Celluloid Closet (1995)
Dead Man Walking (1995)
The Client (1994)
Little Women (1994)
Safe Passage (1994)
Bob Roberts (1992)
Lorenzo's Oil (1992)
The Player (1992)
Light Sleeper (1992)
Thelma and Louise (1991)
White Palace (1991)
A Dry White Season (1989)
Erik the Viking (1989)
The January Man (1989)
Bull Durham (1988)
Sweet Heart's Dance (1988)
Cop (1987)
The Witches of Eastwick (1987)
Compromising Positions (1985)
The Buddy System (1984)
The Hunger (1983)
Tempest (1982)
Loving Couples (1980)
Atlantic City (1980)
Something Short of Paradise (1979)
King of the Gypsies (1978)
Pretty Baby (1978)
Checkered Flag or Crash (1977)
The Other Side of Midnight (1977)
The Great Smokey Roadblock (1976)
One Summer Love (1976)
The Great Waldo Pepper (1975)
The Rocky Horror Picture Show (1975)
The Front Page (1974)
Lovin' Molly (1974)
Lady Liberty (1972)
The Apprentice (1971)
Joe (1970)
<< back