View Full Site
Taron Egerton Bio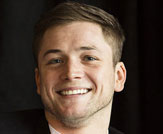 TARON EGERTON
Date of Birth: November 10, 1989
Born in Aberystwyth, Wales, Taron Egerton made his screen acting debut in 2013 in the British television show Inspector Lewis. He was best known at home for The Smoke, an intense British drama series about firefighters in London.
He studied at The Royal Academy of Dramatic Art (RADA), graduating in 2012 with a BA in acting. While at RADA, he achieved the Stephen Sondheim Society's 2011 Student Performer of the Year Award.
The young actor speaks both Welsh and English and is also a talented musical tenor.
Taron received attention in Hollywood when he landed the lead role in the 20th Century Fox film Kingsman: The Secret Service, directed by Matthew Vaughn, playing the part of Gary "Eggsy" Unwin, a street kid who is recruited into a top-secret spy agency. Taron followed that up with the title role in Eddie the Eagle (2016), the story of Olympic British ski jumper Eddie Edwards, starring alongside Hugh Jackman, and the animated musical Sing (2016), starring Matthew McConaughey and Reese Witherspoon.
Recently, Taron has been keeping extremely busy — he's currently on set filming Robin Hood, playing the lead role alongside actor Jamie Foxx. The film is scheduled to come out in March 2018. He also stars in two more films coming to theaters in 2017: Billionaire Boys Club (2017), about a bunch of rich L.A. kids whose financial scam gets them into trouble and the highly anticipated Kingsman: The Golden Circle, the sequel to the movie that really helped his career take off. He will return in his role as Gary "Eggsy" Unwin in the film.
Filmography
Robin Hood (2018)
Kingsman: The Golden Circle (2017)
Sing (2016)
Eddie the Eagle (2016)
Sing (2016)
Kingsman: The Secret Service (2015)
Testament of Youth (2015)
Legend (2015)
<< back