View Full Site
Thomas Kretschmann Bio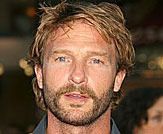 THOMAS KRETSCHMANN
Date of Birth: September 8, 1962
Born in Dessau, under the East German regime, Thomas Kretschmann trained to become an Olympic swimmer. At age 19, he fled the strict East German regime and escaped to West Germany.
He began working as an actor in Berlin in his early 20s, and his work eventually took him to other countries such as Italy and France. In 1991 he received the Max Ophuls Prize as Best Young Actor for his work in the television production Der Mitwisser.
Although he'd appeared in high profile films such as U-571 (2000) and Blade II (2002), Thomas finally captured Hollywood's attention after appearing in the Oscar-winning film The Pianist (2001). He began to land roles in American films such as Resident Evil: Apocalypse (2004) and King Kong (2005).
In 2007, Thomas won Best Actor at the Puchon International Fantastic Film Festival and at the Catalonian International Film Festival for his role as a cannibal killer being studied by a graduate student (Keri Russell) for her thesis in the multi-award winning Rohtenburg (2006).
He starred in the first Russian film shot in IMAX 3D—Stalingrad 3D—playing a German officer who falls in love with a Russian woman during wartime. He most recently starred in The Galápagos Affair: Satan Came to Eden (2014).
Thomas has three children with an ex-girlfriend. He lives in Los Angeles.
Filmography:
The Galápagos Affair: Satan Came to Eden (2014)
Stalingrad (2014)
Open Grave (2013)
The Big Bang (2011)
Cars 2 (2011)
Hostel: Part III (2011)
Grimm Love (2009)
In Tranzit (2009)
The Young Victoria (2009)
Transsiberian (2008)
Valkyrie (2008)
Wanted (2008)
Next (2007)
King Kong (2005)
Head in the Clouds (2004)
Immortal (ad vitam) (2004)
Resident Evil: Apocalypse (2004)
Blade II (2002)
The Pianist (2002)
Hostile Takeover (2001)
U-571 (2000)
Prince Valiant (1997)
Total Reality (1997)
Marching in Darkness (1996)
The Stendhal Syndrome (1996)
Queen Margot (1994)
Stalingrad (1993)
The Warrior's Heart (1992)
Shining Through (1992)
Westler (1985)
<< back