View Full Site
Tilda Swinton Bio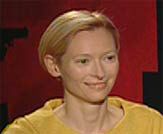 TILDA SWINTON
Date of Birth: November 5, 1960
Born in London, England to an upper-class Scottish family, Swinton was educated at Cambridge University (where she graduated with a degree in Social and Political Science/English Literature) before she started acting with the Royal Shakespeare Company. After a year, she started working with other theaters in England and around the world.
In 1985 she began her long collaboration with English director Derek Jarman. Soon she became Jarman's close friend and regular talent, appearing in each one of his movies such as Caravaggio (1986), The Last of England (1987), War Requiem (1988), The Garden (1990), and Edward II (1992), until his death from AIDS in 1994.
Swinton continued to showcase her talent in independent films and building a small but solid fan base. In 1992 she completed what later became one of her best known projects, her galvanizing portrayal of Virginia Woolf's androgynous character Orlando in the film adaptation of Orlando. But despite the film's popularity, she continued to focus her work in independent films, staying out of the limelight.
After a break in the mid '90s to tend to her pregnancy and the birth of her twins (Xavier and Honor), she returned to the screen, working with Tim Roth in The War Zone (1999), Leonardo DiCaprio in The Beach (2000), The Deep End (2001) and Adaptation (2002). She received a British Independent Film Award nomination for her role in Young Adam (2004). For her performance in Michael Clayton 2007, she received both a BAFTA Award and an Academy Award.
The awards never stop for this talented actress, who won a Saturn Award as Best Supporting Actress for her performance in The Curious Case of Benjamin Button (2008) and a 2010 Dublin Film Critics Award for her work in I Am Love. Some of Swinton's roles include the films The Chronicles of Narnia: The Voyage of the Dawn Treader (2010), We Need to Talk About Kevin (2012) and Moonrise Kingdom (2012). In 2014, she starred in Only Lovers Left Alive and The Grand Budapest Hotel. More recently, she starred in A Bigger Splash (2016) and in Hail, Caesar! (2016). She will next be seen in Marvel's Doctor Strange (2016).
Swinton, who went to school with Princess Diana, has two children with her former boyfriend, John Byrne. She's currently in a relationship with New Zealand painter Sandro Kopp.
<< back