View Full Site
Toby Jones Bio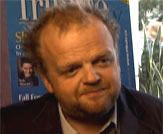 TOBY JONES
Date of Birth: September 7, 1967
Born in Oxford, England, Toby Jones is the son of Freddie Jones, a British character actor who has appeared in many films and TV shows. Toby's mother also comes from a theatrical background.
Toby trained at the Ecole Internationale du Theatre in Paris under Jacques Lecoq and began his career on the stage. Although he would make the leap to film and television, he returns to the boards frequently, including appearing on Broadway in the hit play The Play What I Wrote in 2003 after winning the 2002 Laurence Olivier Theatre Award for Best Actor in a Supporting Role for his performance in the London production.
Toby made his motion picture debut in the period piece Orlando (1992) starring Tilda Swinton. Small roles in a variety of films followed, including playing the doorkeeper in Les Miserables (1998). In Ever After (1999), starring Drew Barrymore, he was at his scene-stealing best as the Royal Page.
He went on to appear on TV in productions such as the critically-acclaimed A&E/BBC mini-series Victoria & Albert (2001) and the HBO/Channel 4 production Elizabeth I (2005) with Helen Mirren and Jeremy Irons, as well the feature films Finding Neverland (2004), Mrs. Henderson Presents (2005) and Infamous (2006), in which he played his first starring role as Truman Capote. He also provided the voice of Dobby the house elf in Harry Potter and the Chamber of Secrets (2002) and Harry Potter and the Deathly Hallows: Part I (2010).
Other projects include the role of Claudius Templesmith in The Hunger Games (2012) and Coll, one of the dwarves, in Snow White & the Huntsman (2012). Most recently, he was be seen in The Man Who Knew Infinity (2016), Alice Through the Looking Glass (2016), Anthropoid (2016), Morgan (2016), Kaleidoscope (2016) and Atomic Blonde (2017), alongside Charlize Theron.
Toby lives in London with his wife Karen, who is a criminal lawyer, and their two children.
Filmography:
Atomic Blonde (2017)
Alice Through the Looking Glass (2016)
Dad's Army (2016)
The Hunger Games: Mockingjay – Part 2 (2015)
The Man Who Knew Infinity (2015)
Tale of Tales (2015)
Serena (2014)
By the Gun (2014)
Captain America: The Winter Soldier (2014)
Muppets Most Wanted (2014)
The Hunger Games: Catching Fire (2013)
Leave to Remain (2013)
Berberian Sound Studio (2012)
Snow White and the Huntsman (2012)
The Hunger Games (2012)
Red Lights (2012)
The Aventures of Tintin (2011) (voice)
My Week with Marilyn (2011)
Tinker Tailor Soldier Spy (2011)
Captain America: The First Avenger (2011)
Your Highness (2011)
The Rite (2011)
Harry Potter and the Deathly Hallows: Part 1 (2010)
What's Wrong with Virginia (2010)
Sex & Drugs & Rock & Roll (2010)
St Trinian's 2: The Legend of Fritton's Gold (2009)
Creation (2009)
Frost/Nixon (2008)
W. (2008)
City of Ember (2008)
St. Trinian's (2007)
The Mist (2007)
Nightwatching (2007)
The Painted Veil (2006)
Amazing Grace (2006)
Infamous (2006)
Mrs Henderson Presents (2005)
Finding Neverland (2004)
Ladies in Lavender (2004)
Harry Potter and the Chamber of Secrets (2002) (voice)
Hotel Splendide (2000)
The Nine Lives of Tomas Katz (2000)
The Messenger: The Story of Joan of Arc (1999)
Simon Magus (1999)
Ever After (1998)
Cousin Bette (1998)
Les Misérables (1998)
Naked (1993)
Orlando (1992)

<< back