View Full Site
Tom Hanks Bio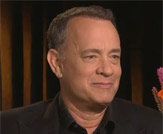 TOM HANKS
Date of Birth: July 9, 1956
Everybody loves Tom Hanks, regardless of the role he plays and he has played many. Hanks has been a beleaguered homeowner in The Money Pit, a detective with a slobbering dog in Turner and Hooch, an astronaut in Apollo 13, a man dying of Aids in Philadelphia and an unlikely success story in Forrest Gump, to touch on only a few of his credits.
Born in Concord, California, Tom was the product of divorce and traveled the States with his father and two siblings. His longest stint in any grammar school was six months, which made him painfully shy yet prone to being a prankster, which continued in high school where he became the class clown.
Tom attended Chabot College, where he decided to become an actor after seeing a production of Eugene O'Neill's The Iceman Cometh. He studied drama at California State University at Sacramento, appearing in The Cherry Orchard by Anton Chekhov. This lead to his first professional job in Ohio at the Great Lakes Shakespeare Festival. After three seasons there, he decamped to New York to submit to endless rounds of auditions, finally landing a part in the 1980 movie He Knows You're Alone. The same year, he became a household name after landing a starring role on the sitcom Bosom Buddies, in which he and his co-star, Peter Scolari, dressed as women in order to get an affordable apartment in a female only building.
Though the show only lasted one season, Tom went on to make television appearances on Taxi, The Love Boat, Family Ties and Happy Days, where he met Ron Howard, who offered him the lead in Splash opposite Daryl Hannah. But his comedic talents weren't really showcased until Penny Marshall's feature film Big (1988), which earned Tom his first Academy Award nomination.
In 1990, audiences saw Tom in Joe Versus the Volcano and The Bonfire of the Vanities, neither of which were runaway hits. Three years later he had two winners with Sleepless in Seattle and Philadelphia, winning his first Oscar for the latter.
His second Oscar for Best Actor came the very next year for Forrest Gump, the lovable antihero who taught us that "Life is like a box of chocolates." In true Forrest fashion, Tom was invited to celebrate his victory with Princess Diana at Kensington Palace.
Like King Midas, everything Tom touches seems to turn to gold. He went on to direct his first feature, That Thing You Do (1996), followed by episodes of the TV mini-series From the Earth to the Moon (1998) and Band of Brothers (2001).
Films he starred in, such as Apollo 13, Saving Private Ryan, The Green Mile, Cast Away and Road to Perdition had excellent showings at the box office. He was nominated for two more Oscars (Saving Private Ryan and Cast Away), and won a Golden Globe for Best Actor in Cast Away (2000).
In 2002, Tom received a Life Achievement Award from the American Film Institute and in 2004, a Britannia Award for Excellence in Film from the BAFTAs. For his starring role in The Da Vinci Code (2006), Tom received $18 million plus a percentage of the profits, and by the time he reprised his role for the movie Angels & Demons, he received a whopping $50 million.
As a producer, Tom has won five Emmy awards—the most recent for the mini-series The Pacific (2010). More recent films include Cloud Atlas(2012), Saving Mr. Banks (2013) and Captain Phillips (2013), receiving a Golden Globe nomination for the latter.
In 2015 Tom starred in Bridge of Spies, which received several Academy Award nominations, including for Best Picture and he also starred in the Carly Rae Jepsen music video for her single "I Really Like You," in which he lip syncs to her voice and even dances at the end alongside Carly Rae and Justin Bieber.
Recently seen in playing a harried businessman in A Hologram for the King (2016), followed by a role as heroic pilot Chelsey Sullenberger in the biopic Sully (2016). He also reprised his role as Robert Langdon in the third The Da Vinci Code movie, titled Inferno (2016), again based on the novel by Dan Brown.
His latest credit is the sci-fi drama The Circle (2017) with Emma Watson.
His look-alike son, actor Colin Hanks (b. 1977), and daughter Elizabeth Hanks (b. 1982), are from his first marriage to Samantha Lewes. Since 1985, Tom has been married to actress Rita Wilson. They have two children, Chester (b. 1990) and Truman (b. 1995).
* 1993 Actor in a Leading Role Oscar winner for Philadelphia.
* 1994 Actor in a Leading Role Oscar winner for Forrest Gump.
Filmography: (actor)
The Circle (2017)
Inferno (2016)
Sully (2016)
A Hologram for the King (2016)
Bridge of Spies (2015)
Toy Story That Time Forgot (2015)
Toy Story of Terror (2014)
Captain Phillips (2013)
Saving Mr. Banks (2013)
Cloud Atlas (2012)
The Lost Symbol (2012)
Extremely Loud & Incredibly Close (2011)
Larry Crowne (2011)
Toy Story 3 (2010)
Angels & Demons (2009)
The Great Buck Howard (2009)
Charlie Wilson's War (2007)
The Da Vinci Code (2006)
The Ladykillers (2004)
The Polar Express (2004)
The Terminal (2004)
Catch Me If You Can (2002)
Road To Perdition (2002)
Cast Away (2000)
The Green Mile (1999)
Toy Story 2 (1999)
Big (1998)
Saving Private Ryan (1998)
You've Got Mail (1998)
Apollo 13 (1995)
Toy Story (1995)
Forrest Gump (1994)
Sleepless In Seattle (1993)
A League Of Their Own (1992)
Filmography: (director)
Larry Crowne (2011)
That Thing You Do! (1996)
<< back