View Full Site
Toni Collette Bio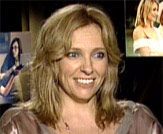 TONI COLLETTE
Date of Birth: November 1, 1972
The eldest of three children, this Sydney, Australian native dropped out of school at age 16 to study drama at Sydney's National Institute of Dramatic Art. She gained experience on stage starring in such plays as "Away", "Summer of the Aliens", "Blue Murder" and the title role of Sonya in the 1992 production of "Uncle Vanya". Later on in the year, she was given the Sydney Critics' Circle Award.
She made her film debut opposite Anthony Hopkins in Spotswood (1991). But Collette is best known for her performance as the dumpy, shy and plain girl who would do anything to get married in Muriel's Wedding (1994). In real life, willowy Australian actress Collette looks nothing like the character of Muriel Heslop. To play the part, Collette gained 40 pounds in seven weeks with the help of a dietitian. She also allowed herself to be photographed in various unflattering angles, a fairly courageous act for a leading lady.
In 1996, Collette received the Australian Film Institute Award for her supporting role in Lilian's Story (1995). In 1998, Collette played the ex-wife of a fallen rock star in Todd Haynes' Velvet Goldmine, which won the "Artistic Achievement" award at that year's Cannes Film Festival. In 1999, she played mother to Haley Joel Osmont's Cole Sear in The Sixth Sense, garnering her first Oscar nomination for Best Supporting Actress. She has continued to work steadily since then, winning several awards for her role in The Hours (2002) and a Film Critics Circle of Australia award for Best Actor in Japanese Story (2003). In 2010, she won her first Golden Globe award for her role on the TV series United States of Tara. Since then she's continued to take on a few film roles like Fright night (2011) and Jesus Henry Christ (2012). She starred in Enough Said(2013) alongside James Gandolfini. She starred in Tammy (2014) and lent her voice to the animated film The BoxTrolls (2014). She also makes an appearance in Hector and the Search for Happiness (2014). More recently, she starred in the Catherine Hardwicke drama Miss You Already (2015), the horror film Krampus (2015), the drama Imperium (2016), and the action sequel xXx: Return of Xander Cage (2017).
Collette married Dave Galafassi on January 11, 2003. Their daughter was born January 9, 2008.
Filmography:
xXx: Return of Xander Cage (2017)
Imperium (2016)
Krampus (2015)
Miss You Already (2015)
The Boxtrolls (2014)
Hector and the Search for Happiness (2014)
Tammy (2014)
The BoxTrolls (2014)
Enough Said (2013)
Hitchcock (2013)
Mental (2012)
Jesus Henry Christ (2012)
Fright Night (2011)
Foster (2011)
Mary and Max (2009) (voice)
Hey Hey It's Esther Blueburger (2008)
Towelhead (2008)
The Black Balloon (2007)
Evening (2007)
The Dead Girl (2006)
Like Minds (2006)
Little Miss Sunshine (2006)
The Night Listener (2006)
In Her Shoes (2005)
The Last Shot (2004)
Japanese Story (2004)
Connie and Carla (2004)
The Last Shot (2004)
Dirty Deeds (2002)
The Hours (2002)
About a Boy (2002)
Changing Lanes (2002)
The Magic Pudding (2000) (voice)
Hotel Splendide (2000)
Shaft (2000)
The Sixth Sense (1999)
8 1/2 Women (1999)
Dead by Monday (1999)
Hotel Sordide (1999)
Velvet Goldmine (1998)
Diana & Me (1997)
The James Gang (1997)
Clockwatchers (1997)
The Boys (1997/I)
Emma (1996)
The Pallbearer (1996)
Cosi (1996)
Arabian Knight (1995) (voice)
Lilian's Story (1995)
Muriel's Wedding (1994)
This Marching Girl Thing (1994)
Spotswood (1991)
<< back