View Full Site
Tyrese Gibson Bio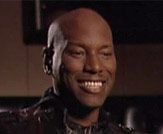 TYRESE GIBSON
Date of Birth: December 30, 1978
Hailing from Los Angeles, talented musician Tyrese wasted no time in getting his music career underway. Competing in music competitions from the age of 14, by the age of 16, he had made enough cash with his winnings to buy a home. He became famous worldwide doing commercial work for Coke, and by the time he was 17, he started a modeling career. The work became fruitful as he modeled for such names as Tommy Hilfiger and GUESS.
Due to the commercial exposure, he was quickly signed on with RCA Music Group. His debut album TYRESE was cut in 1998, and by 2000, the record went platinum. In 2001, his second album, 2000 Watts, was released.
He then expanded his talents to acting. While hosting MTV Jams Countdown, he landed a small role in the telefilm Love Song. Using this experience, he eased onto the big screen, taking a starring role in John Singleton's Baby Boy (2001).
Having ascended the ladder of fame and fortune from the lowest and most difficult beginnings with his family in the ghettos, Tyrese was determined to make a difference with his new life. Creating 2000 Watts, an organization that helps to raise money for inner city children, Tyrese has raised over $300,000 to build a community center.
He since re-teamed with Singleton for 2 Fast 2 Furious (2003) and Four Brothers (2006), and appeared with Shia LaBeouf in the blockbuster films Transformers (2007), Transformers: Revenge of the Fallen (2009) and Transformers: Dark of the Moon (2011).
More recently, Tyrese appeared in Furious 7 (2015), Ride Along 2 (2016), the drama series Star (2017) and The Fate of the Furious (2017).
Tyrese has a child with Norma Mitchell, whom he was married to from 2007 to 2009. In 2017, he wed Samantha Lee in a secret ceremony.
Filmography:
The Fate of the Furious (2017)
Ride Along 2 (2016)
Furious 7 (2015)
Black Nativity (2013)
Fast & Furious 6 (2013)
Transformers: Dark of the Moon (2011)
Fast Five (2011)
Legion (2010)
Transformers: Revenge of the Fallen (2009)
Death Race (2008)
The Take (2007)
Transformers (2007)
Waist Deep (2006)
Annapolis (2006)
Four Brothers (2005)
Flight of the Phoenix (2004)
2 Fast 2 Furious (2003)
Baby Boy (2001)
<< back