View Full Site
Vin Diesel Bio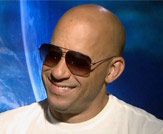 VIN DIESEL
Birth Name: Mark Vincent
Date of Birth: July 18, 1967
Vin Diesel was born and raised in New York where he honed his craft as an actor and writer. His father was a theater director, and Diesel was part of the cast of his father's repertory company, where he gained valuable experience playing a number of roles. He moved to Hollywood to break into films, but after a year without landing a job, he returned to New York. After his mother gave him a book that explained how to make your own movies, in 1995, Diesel wrote, directed, produced and acted in a short film called Multi-Facial (1999).
The film was shown at Cannes, but didn't really cause a stir, so he raised $50,000 and went on to make his first feature, Strays in 1997. Although it was accepted at the 1997 Sundance Film Festival, the film didn't do as well as he'd hoped. However, Steven Spielberg called him in 1997 on the basis of Diesel's work in his first time, and the young actor was subsequently offered a role in Saving Private Ryan, a true story about sacrifice and heroism in World War II, starring Tom Hanks.
Diesel has since become a star, appearing in major franchises such as The Fast and the Furious (2001), XXX (2002), and The Chronicles of Riddick (2004). Some of his recent films include the fantasy adventure comedy Guardians of the Galaxy (2014), the seventh installment of the Fast and Furious series, Furious 7 (2015), the action adventure The Last Witch Hunter (2015), and the drama Billy Lynn's Long Halftime Walk (2016). In 2017, Diesel reprised his role as Xander Cage in the action sequel xXx: Return of Xander Cage (2017), as well as Dom in the eighth installment of the franchise, The Fate of the Furious (2017).
He also once again played Groot in Guardians of the Galaxy Vol. 2 (2017).
Diesel has a fraternal twin brother, Paul Vincent, and two sisters.
Filmography
Avengers: Infinity War (2018)
Guardians of the Galaxy Vol. 2 (2017)
The Fate of the Furious (2017)
xXx: Return of Xander Cage (2017)
Billy Lynn's Long Halftime Walk (2016)
The Last Witch Hunter (2015)
Furious 7 (2015)
Guardians of the Galaxy (2014)
Fast & Furious 6 (2013)
Riddick (2013)
Hannibal the Conquerer (2011)
Rockfish (2010)
Fast & Furious (2009)
Babylon A.D. (2008)
The Fast and the Furious: Tokyo Drift (2006) (uncredited)
Find Me Guilty (2006)
The Pacifier (2005)
The Chronicles of Riddick (2004)
A Man Apart (2003)
XxX (2002)
Knockaround Guys (2002)
The Fast and the Furious (2001)
Pitch Black (2000)
Boiler Room (2000)
The Iron Giant (1999) (voice)
Multi-Facial (1999)
Saving Private Ryan (1998)
Strays (1997)
Awakenings (1990) (uncredited)
<< back