View Full Site
Ving Rhames Bio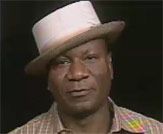 VING RHAMES
Birth Name: Irving Rhames
Date of Birth: May 12, 1959
"I don't give Hollywood the power to limit me," says Rhames. " Only God can limit me."
Rhames grew up in what he terms a "poverty-stricken neighborhood" but, as a kid, he says, "I didn't really know I was a deprived poverty-stricken child until the media made me aware of it." In any case, when acting came calling, Rhames followed the voice and ended up a working actor for years, even if no one knew who he was.
He's an accomplished stage actor who's appeared on Broadway and he also did the struggling actor thing of getting a job in the soap opera Another World, the same soap that once provided an income for such stars such as Morgan Freeman, Gates McFadden, Charles Durning, Ray Liotta and Kyra Sedgwick.
Although relatively unknown before Pulp Fiction, Rhames says, "I don't believe in breakthroughs. Pulp Fiction was just part of the process to get me where I am now." He has also made several guest appearances on television series, including a four episode stint on The District as Attorney General Trot Hatcher. But it was his performance in the TV movie Don King: Only in America (1997) that won him a Golden Globe. In 2000, he was named Supporting Actor of the Year at the ShoWest Convention.
He continued to earn roles in major motion pictures in the early 2010s, including Mission: Impossible III (2005), Day of the Dead (2008), Piranha 3D (2010), Mission: Impossible - Ghost Protocol (2011), Piranha 3DD (2012), Won't Back Down (2012), and Force of Execution (2013).
In 2015, Rhames reprised his role as Luther Stickell in Mission Impossible - Rogue Nation, once again starring Tom Cruise. Most recently, he appeared in the biographical drama A Sunday Horse (2016) and the comedy Bastards (2017), the latter of which stars Owen Wilson and Ed Helms.
Filmography:
Bastards (2017)
A Sunday Horse (2016)
Operator (2015)
Mission: Impossible - Rogue Nation (2015)
Percentage (2014)
Force of Execution (2013)
Armed Response (2013)
Mafia (2012)
Won't Back Down (2012)
Piranha 3DD (2012)
Soldiers of Fortune (2012)
7 Below (2012)
Mission: Impossible - Ghost Protocol (2011)
Julia X 3D (2011)
The River Murders (2011)
Death Race 2 (2011)
Minkow (2011)
King of the Avenue (2010)
Piranha 3D (2010)
Love Chronicles: Secrets Revealed (2010)
Master Harold... and the Boys (2010)
Surrogates (2009)
Rogue's Gallery (2009)
King of the Avenue (2009)
The Goods: Live Hard, Sell Hard (2009)
Give 'em Hell, Malone (2009)
The Tournament (2009)
Echelon Conspiracy (2009)
Evil Angel (2009)
The Bridge to Nowhere (2009)
Phantom Punch (2009)
Saving God (2008)
Day of the Dead (2008)
King of the Avenue (2007)
Marble City (2007)
3/5 of a Man (2007)
Ascension Day (2006)
Idlewild (2006)
Mission: Impossible 3 (2005)
Back in the Day (2004)
Dawn of the Dead (2004)
Secret Window (2004)
Sin (2003)
Undisputed (2002)
Dark Blue (2002)
Lilo & Stitch (2002)(voice)
Undisputed (2002)
Final Fantasy: The Spirits Within (2001)(voice)
Baby Boy (2001)
Mission: Impossible 2 (2000)
Bringing Out the Dead (1999)
Entrapment (1999)
Doctor Dolittle (1998) (voice)
Out of Sight (1998)
Con Air (1997)
Dangerous Ground (1997)
Rosewood (1997)
The Split (1997)
Striptease (1996)
Go Tell It On the Mountain (1995)
Mission: Impossible (1995)
Kiss of Death (1995)
Drop Squad (1994)
Pulp Fiction (1994)
Bound by Honor (1993)
Dave (1993)
The Saint of Fort Washington (1993)
The People Under the Stairs (1992)
Stop! Or My Mom Will Shoot (1992)
Homicide (1991)
Flight of the Intruder (1990)
Jacob's Ladder (1990)
The Long Walk Home (1990)
Casualties of War (1989)
Patty Hearst (1988)
<< back