View Full Site
Wesley Snipes Bio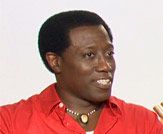 WESLEY SNIPES
Date of Birth: July 31, 1963
Born in the Bronx, New York, Wesley Snipes left behind his studies at Manhattan's High School for the Performance Arts when his family packed up and moved to Florida, dashing his musical theater dreams.
He returned to New York a few years later to study drama at the prestigious theater program at S.U.N.Y.-Purchase, where he was one of only four black students. Upon graduation, Snipes installed telephones before landing his first movie role in the Goldie Hawn vehicle Wildcats (1986). Next came a role as a street tough who pushes Michael Jackson against a wall in the Scorsese-directed music-video for Jackson's "Bad." The performance was good enough to get him noticed by Spike Lee, who offered him a small role in Do The Right Thing but turned it down for a larger role in Major League (1989). Snipes eventually worked with Lee in Mo' Better Blues (1990) and in Jungle Fever (1991) in which he played Flipper Purify, a role Lee wrote with him in mind.
An expertise with Capoeira, an African-Brazilian martial art, coupled with his tall good looks and acting ability, made him a natural choice for action-adventure films such as Passenger 57 and Rising Sun. But Snipes has proved he's equally gifted with subtle and complex material with his portrayal of a wheelchair-bound patient in The Waterdance.
His next role was one of his most challenging: he starred as a drag queen along with Patrick Swaze and John Leguizamo in To Wong Foo: Thanks for Everything, Julie Newmar. Though he slogged through the doltish buddy comedy Money Train and the deplorable thriller The Fan, Snipes re-established beyond a doubt his ability to carry a film with his role as a homicide detective caught up in a White House cover-up in 1997's Murder at 1600. He next co-starred alongside Robert Downey Jr. in back-to-back projects, the Mike Figgis adultery drama One Night Stand and the action-packed sequel to 1993's The Fugitive, U.S. Marshals.
In 1998, Snipes' ultra-ripped physique and martial-arts savvy were both showcased to effect in his performance as the Marvel Comics hero of Blade. The film was a hit, grossing over $150 million worldwide.
In 1991, Snipes also formed his own independent production company, Amen Ra Films, and a subsidiary, Black Dot Media, Inc. The company produced The Art of War (2000). He has also completed two Blade sequels.
In 2008, after being found guilty of not filing his taxes for five years, Snipes was sentenced to three years in prison.
Snipes is married to Korean painter Nikki Park. They have four children together. He also has a son from his first marriage.
Filmography:
The Recall (2017)
Gallowwalker (2009)
Chaos (2005)
Blade: Trinity (2004)
Undisputed (2002)
Blade II (2002)
Disappearing Acts (2000)
The Art of War (2000)
Play It to the Bone (1999)
Blade (1998)
Down in the Delta (1998)
U.S Marshals (1998)
Murder at 1600 (1997)
The Fan (1996)
To Woo Fong, Thanks for Everything, Julie Newmar (1995)
Money Train (1995)
America's Dream (1995)
Sugar Hill (1994)
Drop Zone (1994)
Boiling Point (1993)
Rising Sun (1993)
Demolition Man (1993)
The Water Dance (1992)
White Men Can't Jump (1992)
Passenger 57 (1992)
New Jack City (1991)
Jungle Fever (1991)
King of New York (1990)
Mo' Better Blues (1990)
Major League (1989)
Critical Condition (1987)
Wildcats (1986)
Streets of Gold (1986)
<< back