View Full Site
Will Ferrell Bio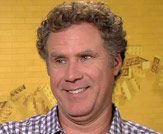 WILL FERRELL
Date of Birth: July 16, 1967
A native of Irvine, California, Will Ferrell, whose father was a longtime keyboardist for The Righteous Brothers, first became interested in performing comedy in high school where he would make his school's daily morning announcements over the public address system in a number of disguised voices. He later graduated from the University of Southern California with a degree in Sports Information.
After graduation he returned to comedy and studied at the infamous comedy/improv theater company, The Groundlings, which trained other comic actors such as Jon Lovitz, Phil Hartman and Cheri Oteri. This eventually led him to a stint on Saturday Night Live, where he has become famous for his celebrity impersonations, including Alex Trebek, Jesse Ventura, Charlton Heston, Mark McGwire and George W. Bush.
He has also created some unforgettable characters including Craig, one half of the "Spartan Spirit" cheerleaders; one half of the club-hopping Roxbury Guys; the musical middle school teacher Marty Culp; "Dog Show" co-host David Larry; drifter and life model Terrence Maddox; and Tom Wilkins, the hyperactive co-host of "Morning Latte."
In 1997, Will made his feature film debut as "Mustaffa" in the hit comedy Austin Powers: International Man of Mystery, followed by a role in the blockbuster sequel The Spy Who Shagged Me (1999). He's also been seen as Watergate reporter Bob Woodward in the Nixon-era comedy Dick (1999) and opposite castmate Tim Meadows in The Ladies Man (2000), the SNL Studios feature based on Meadows' "Leon Phelps" character.
Will has also appeared on numerous television programs, including NBC's Late Night with Conan O'Brien, Late Show with David Letterman, The Rosie O'Donnell Show, Grace Under Fire and Living Single.
He is adept at voice work, having lent his voice to various animated productions such as Disney's Hercules and the WB series The Oblongs. He made his final appearance on SNL on May 18, 2002, so that he could move into film acting full time.
Since then, he has worked non-stop in features, beginning with the comedy Old School (2003). His next film, Elf (2003) was a box office smash, achieving the No. 1 spot at the North American box office in its second weekend out. It went on to earn over $100 million domestically.
Will moved on to play roles in Anchorman (2004), Blades of Glory (2007) and The Other Guys (2010). He has also voiced lead characters in the animated films Curious George and Megamind. In 2012, Will took on the role of a Mexican rancher in Casa de mi Padre (which he also co-produced) and a congressman in The Campaign.
He starred in Anchorman 2: The Legend Continues (2013), The LEGO Movie (2014), Get Hard (2015) alongside Kevin Hart and played a supporting role in Zoolander 2 (2016). Most recently, he starred in The House (2017) alongside Amy Poehler.
Will married actress Viveca Paulin in August 2000. They both love running and have entered several marathons together. They have three sons together.
Filmography:
Holmes and Watson (2018)
Daddy's Home 2 (2017)
The House (2017)
Zoolander 2 (2016)
Get Hard (2015)
The LEGO Movie (2014)
Anchorman 2: The Legend Continues (2013)
Daddy's Home (2013)
The Internship (2013)
The Campaign (2012)
Casa de mi Padre (2012)
Everything Must Go (2011)
Megamind (2010) (voice)
The Other Guys (2010)
Land of the Lost (2009)
Step Brothers (2008)
Semi-Pro (2008)
Blades of Glory (2007)
Stranger than Fiction (2006)
Talladega Nights: The Ballad of Ricky Bobby (2006)
The Producers: The Movie Musical (2005)
Curious George (2006) (voice)
Wedding Crashers (2005)
Bewitched (2005)
The Wendell Baker Story (2005)
Kicking & Screaming (2005)
Melinda and Melinda (2005)
Winter Passing (2005)
Anchorman (2004)
Starsky & Hutch (2004)
Elf (2003)
Old School (2002)
Boat Trip (2002)
(uncredited) Austin Powers in Goldmember (2002)
Zoolander (2001)
Jay and Silent Bob Strike Back (2001)
The Ladies Man (2000)
Drowning Mona (2000)
The Whistlebower (1999)
The Suburbans (1999)
Superstar (1999)
Dick (1999)
Austin Powers: The Spy Who Shagged Me (1999)
A Night at the Roxbury (1998)
Austin Powers: International Man of Mystery (1997)
Men Seeking Women (1997)
<< back