View Full Site
Winona Ryder Bio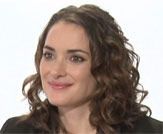 WINONA RYDER
Date of Birth: October 29, 1971
"For a long time," says this Winona, Minnesota native, "I was almost ashamed of being an actress. I felt like it was a shallow occupation."
Ryder's parents were a colorful couple who hung out with likes of the late acid guru Timothy (he's her godfather) and novelist Aldous Huxley. Part of her childhood was spent in a hippie commune in the San Francisco Bay area.
At the age of 11 Ryder began studying acting at San Francisco's American Conservatory Theater and became a film favorite at 17 when she starred in Beetlejuice which she followed up a year later with an excellent outing in the teen angst comedy, Heathers.
After settling into more mature roles, she said, "I didn't understand that I could be normal and relax and still be a good actress. I finally figured it out - which is such a relief."
In the mid-'90s, at the height of her fame, Ryder received an Oscar nomination and a Golden Globe for
The Age of Innocence
(1993) and a second Oscar nomination for
Little Women
(1994). She was named Female Star of the Year at the 1997 ShoWest Convention and on October 6, 2000, received a Star on the Walk of Fame.
However, her career came to a screeching halt in 2001 when she was arrested in Beverly Hills for allegedly stealing clothing and carrying illegal pharmaceutical drugs without a prescription.
After a short break to get her life in order, she's gotten her career back on track with appearances in major films such as A Scanner Darkly (2006) with Keanu Reeves, Star Trek (2009), the Oscar-winning Black Swan (2010) and Tim Burton's Frankenweenie (2012).
Filmography:
Frankenweenie (2012) (voice)
The Letter (2012)
The Iceman (2012)
The Dilemma (2011)
Black Swan (2010)
Stay Cool (2009)
Star Trek (2009)
The Private Lives of Pippa Lee (2009)
The Informers (2008)
The Last Word (2008)
Sex and Death 101 (2007)
The Ten (2007)
A Scanner Darkly (2006)
The Darwin Awards (2006)
S1m0ne (2002)
Mr. Deeds (2002)
Lost Souls (2000)
Autumn in New York (2000)
Girl, Interrupted (1999)
Celebrity (1998)
Alien: Resurrection (1997)
The Crucible (1996)
Boys (1996)
How to Make an American Quilt (1995)
Little Women (1994)
Reality Bites (1994)
The House of Spirits (1993)
The Age of Innocence (1993)
Dracula (1992)
Night on Earth (1991)
Mermaids (1990)
Edward Scissorhands (1990)
Welcome Home, Roxy Carmichael (1990)
Great Balls of Fire! (1989)
Heathers (1988)
1969 (1988)
Beetlejuice (1988)
Square Dance (1987)
Lucas (1986)

<< back