View Full Site
Zachary Levi Bio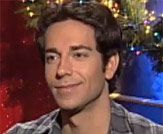 ZACHARY LEVI
Date of Birth: September 29, 1980
Born in Lake Charles, Louisiana, Zachary Levi grew up all over the country before his family put down roots in Ventura County, California.
At the early age of six, Zachary began acting, singing and dancing in school and local theater productions. Levi began acting onstage in community and regional theater when he was just a kid, but it was a very grown-up performance as Hank in the play Marvin's Room that booked him an agent.
His first big break onscreen was a supporting role in the FX TV movie Big Shot: Confessions of a Campus Bookie. Among other TV work, he played Kipp Steadman on the sitcom Less Than Perfect with Eric Roberts. Levi got his big break when he scored the lead role of geeky unlikely hero Chuck Bartowski on the spy comedy TV series Chuck, which began airing in 2007. Currently in its third season, much to the demand of avid fans, Levi is making a name for himself both on the small and big screens. Last year he was ranked #22 on Entertainment Weekly's "30 Under 30" actors list.
In his spare time, Zachary, who lives in Los Angeles, enjoys playing poker, skateboarding, snowboarding, tennis and skydiving. He gets around town on one of his two motorcycles—a Harley-Davidson FXDX and a Ducati Monster 750CC—or in his Nissan GT-R super sports car.
<< back