View Full Site
Zoe Saldana Bio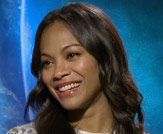 ZOE SALDANA
Date of Birth: June 19, 1978
Zoe Saldana was born in New Jersey and raised in Queens, New York. Her mother is Puerto Rican and her father is of Dominican descent, and her first languages are English and Spanish. At 10 years old, she moved with her family to the Dominican Republic, where she would live for the next seven years. While there, she took an interest in dance and studied ballet and other types of dance at the ECOS Espacio de Danza Dance Academy.
At 17, Saldana moved back to the United States where she developed a love for theater. She performed with the Faces theater troupe, which staged plays for teenagers that provided positive messages about issues such as sex and substance abuse. While performing with Faces, and also with the New York Youth Theater, Zoe was scouted for a talent agency. Her acting and dance experience later helped her land the major role of Eva Rodriguez in the dance film Center Stage (2000).
Saldana made more film appearances in Get Over It (2001), Snipes (2001) and Drumline (2002) before landing the role of Anamaria in Pirates of the Caribbean: The Curse of the Black Pearl (2003), for which she is arguably most well-known. She was set to reprise her role in the next films of the series, but never did. Saldana went on to complete a slew of other films such as Temptation (2004), Constellation (2005), Blackout (2007), and Vantage Point (2008). When she was chosen to play Nyota Uhura in Star Trek (2009), she hadn't seen the television series, and enlisted Nichelle Nichols, who played the same character in the show, to help her prepare for the role. Her television credits include Law & Order, Law & Order: Special Victims Unit, and Six Degrees.
According to many of the celebrities she has worked with, such as Steven Spielberg, Tom Hanks, Ashton Kutcher, Kirsten Dunst and Orlando Bloom, Saldana has incredible potential for success due to her range, concentration and determination. Following her appearance in Star Trek (2009), she played a starring role in Avatar (2009), which went on to become the biggest box office success of all time. She followed this up with roles in the comedy Death at a Funeral (2010), the action flick Colombiana (2011), the drama The Words (2012), and the massively successful action comedy Guardians of the Galaxy (2014).
In recent years, Saldana starred in the drama Infinitely Polar Bear (2015), and the controversial biopic Nina (2016). She also reprised her Star Trek (2009) role as Lieutenant Uhura in the sequel Star Trek Beyond (2016). In 2017, she joined an ensemble cast led by Ben Affleck in the crime drama Live by Night and reprised her role as Gamora in Guardians of the Galaxy Vol. 2.
In 2010, Saldana was named #3 on Maxim's Top 10 Most Beautiful Women list. She married Italian artist Marco Perego in 2013, and the two welcomed twin sons in November 2014.
Filmography:
Avatar 4 (2022)
Avatar 3 (2020)
Avengers: Infinity War (2018)
Avatar 2 (2018)
My Little Pony: The Movie (2017)
Guardians of the Galaxy Vol. 2 (2017)
Live By Night (2017)
Star Trek Beyond (2016)
Nina (2016)
Infinitely Polar Bear (2015)
Blood Ties (2014)
The Book of Life (2014)
Guardians of the Galaxy (2014)
Out of the Furnace (2013)
Star Trek Into Darkness (2013)
The Words (2012)
Colombiana (2011)
Takers (2010)
Burning Palms (2010)
The Losers (2010)
Death at a Funeral (2010)
Avatar (2010)
Star Trek (2010)
The Haunting of Bryan Becket (2009)
Vantage Point (2008)
Blackout (2007)
After Sex (2007)
Ways of the Flesh (2006)
Premium (2006)
Dirty Deeds (2005)
Guess Who (2005)
Constellation (2005)
Temptation (2004)
Haven (2004)
The Terminal (2004)
Pirates of the Caribbean: The Curse of the Black Pearl (2003)
Drumline (2002)
Crossroads (2002)
Snipes (2001)
Get Over It (2001)
Center Stage (2000)
<< back