View Full Site
Zooey Deschanel Bio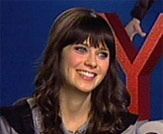 ZOOEY DESCHANEL
Date of Birth: January 17, 1980
L.A.-born Deschanel knew what she was getting herself into when striving to make it in the film industry. As a child she spent much of her time on location with her mother, actress Mary Joe. Though she followed in her mother's footsteps, Deschanel credits her father, Academy Award-nominated cinematographer, Caleb, as her inspiration for her sense of style, which is more reminiscent of early Hollywood than the current trend in teen acting.
After graduating from Crossroads School for Arts and Sciences in Santa Monica, she tested out her acting skills on stage. Her performance as Little Red Riding Hood in the musical Into the Woods earned her numerous accolades.
Following her television debut in an episode of Veronica's Closet, she made her big screen debut in Mumford, playing a troubled young woman obsessed with models. Her performance impressed critics, and film offers soon began rolling in. In 2000, she was featured in the ensemble of the Cameron Crowe film Almost Famous, playing the older sister of the character based on Crowe. She followed up Crowe's film with two comedies, Big Trouble and The New Guy (both 2002). In 2003, she won Best Actress at the Mar del Plata Film Festival for her role in All the Real Girls. Later that year, she played Jovie in the hit holiday comedy Elf, co-starring alongside Will Ferrell. The film went on to gross over US$173 million at the domestic box office. In 2009 she was nominated for a Satellite Award for her work in the critically-acclaimed 500 Days of Summer.
Deschanel, who is the younger sister of actress Emily Deschanel, is also a talented ukulele player and is a member of the cabaret group called 'If All the Stars Were Pretty Babies.' She is married to Ben Gibbard, singer with the popular band Death Cab For Cutie and is a spokesmodel for Rimmel London.
<< back