Baby Driver - User Reviews
Thank you for rating this movie!
Read your review below. Ratings will be added after 24 hours.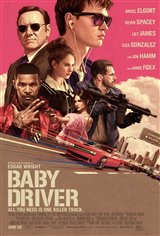 ---
Please rate movie 1 to 5 stars
Showing 1 to 50 of 89
December 20, 2020
Very good story Very good action scenes And extremely excellent actor He is very good Baby driver you are awesome 😎
December 26, 2017
You won't feel like you wasted your time or money watching this. It's good. Solid story.
October 16, 2017
Terrible, not sure if it was supposed to be a comedy or what it was going for but I barely lasted more than 10-15 minutes ????????
October 14, 2017
This is Ansel Elgort's best movie yet! The acting in it is perfectly done. Also, you've got to love the chase scenes. They're as the ones in the Jason Bourne movies!
October 09, 2017
Outstanding !!!
September 19, 2017
one star as that so far I would go, disturbing and totally not believable like one the of the bad guys get screw by baby driver and then comes back at him in a police car, ooop did I ruin much of the crap flick..don't worry you're not missing much, and I got one more thing to say PU
September 17, 2017
Best movie I've seen all year!
September 17, 2017
Eiza González just rocked this movie!!!!
September 17, 2017
I love Eiza González, She's a really good actress.
September 17, 2017
One of the best Movies of the Year !!!
September 17, 2017
Saw this movie 3 times... awesome, edgy, well done.
September 17, 2017
Best of this year so far !
September 09, 2017
The moving pictures are well produced, but the characters and story didn't scramble my eggs.
August 29, 2017
Wanted to like this movie, but there wasn't enough meat to make it interesting. Jon Ham does not make a convincing villain. Kevin Spacey seemed to have phoned it in. The supporting cast could have made this a much better movie, but there wasn't enough for them to work with.
August 28, 2017
I loved this movie and I thought it was the greatest; non-stop action from beginning to end. The soundtrack is phenomenal!
August 23, 2017
Very good fast paced action movie. Totally enjoyed!
August 22, 2017
I loved it. The choreography was great. Loved gis acting .
August 20, 2017
Great movie , Great soundtrack !
August 18, 2017
Only good part was the driving scenes. The one bad guy who had the gorgeous girlfriend steals the show anytime he is in the scene.
August 17, 2017
Should be called, " Slow Driver ".
August 12, 2017
Loved the story! It wasn't just action-criminals. The main character was fascinating with a unique style of dealing with his disability in a creative, entertaining manner. The soundtrack I found equally amazing and pertinent to every scene.
August 12, 2017
Good entertainment. Some great driving stunts.
August 07, 2017
Started out strong, good action, good story, got a little depressing as things went on however.
August 03, 2017
Fast pace from start to finish. Loved the music!
August 03, 2017
I liked everything about this movie. Amazing! Full of action, kept me on the edge of my seat. My heart was beating so fast. One of the best movies I've seen in a long time. LOVED IT!
August 01, 2017
Baby driver is really good this is one of the best summer movies of the year
July 29, 2017
Enjoyed the ride!!!
July 28, 2017
sign language was spot on!
July 28, 2017
Fully entertaining from start to end.
July 23, 2017
Fast paced and great driving - loved it.
July 23, 2017
this is totally enjoyable, I m over 60 I thought the name of movie was off, until I saw movie, Really good highly recommend.
July 23, 2017
This is the best movie I had seen in a very long time. It should get awards as well as being rated number one. Recommended to others. Judy Howe
July 22, 2017
Pleasantly surprise, Like how they did the music with his driving. Though the part with Jon Hamm in the car crash and still be alive I thought that was a bit of a stretch and unrealistic, but I though the love scene was pretty cute.
July 21, 2017
Music was good, the rest sucked big time. Please spend more money on your writers, if they will allow you to make another movie.
July 20, 2017
My husband and I were so excited to see this movie based on all the reviews and it was such a brutal disappointment. Don't waste your money. If you must see it, be disappointed at home.
July 20, 2017
Ouch, What can I say. Typically I do love me some mindless action, and boy does this one give that and plenty. At the same time, somewhat of a plot is appreciated, and this one is thin as tissue paper flitting in the breeze. The music hook / catch part is kind of cute, but The Kid (Baby? WTH?) can barely pull it off. Great cast, some fun acting, pretty good work here, but a bit too much of a Reality Suspension is required. Not that this is horrible, but it is not big screen theater worthy or necessary. Silly Stupid Summer Flick it is. DVD & pizza (& beer) night watching MIGHT improve this, but doubt that I will ever rent it now that I've already been subjected. It's about a $2 - $5 buck budget night film and no more. (We caught it on $5 night, so it was tolerable). YMMV . . .
July 19, 2017
This was an entertaining movie based on the music score alone. The plot gets a little too violent at times, but everything smooths out in the end. Given the lack of novelty in the movie industry this movie should earn high marks for its creativity.
July 19, 2017
So, no academy awards, but this "type" of movie is entertaining; action and more action. Some lame themes and acting but it does deliver spectacular vehicle driving, two very sexy women, lotsa music oldies, and also lotsa killing; what not to like. Anyways, if you like action and over the top characters.....this is your movie. I am an old dog, kind of cynical.....but what the heck. I am sure most would love it for what it is; action, action and more action.
July 17, 2017
Started interesting but became lame very quickly.... Story sucked..... Not giving more than 2 stars.... Waste of time and money.... Hi
July 17, 2017
it was surprisingly very entertaining with plenty of action. There was little swearing, no nudity, but dome killing. The driving was astounding. This movie is not boring and does have a good story line too.
July 17, 2017
Using music they way they did was a creative idea and they COULD have nailed it... but they got lazy in the second half of the film. The opening scene is incredible and thoroughly thought out with really creative transitions. The later part of the film became a bunch of messy action scenes and the film lost its music-focus. I wish they had put the same amount of effort into the whole movie as they did in the opening scene. It would have been Oscar-worthy.
July 16, 2017
Wonderfully creative and very unique. Jon Hamm doesnt pick bad movies to be in and this keeps hia streak alive. The ensemble cast is excellent and the soundtrack stays in your head for days. Highly recommended!!
July 16, 2017
No star. This is about one of the dumbest movie I've. I know you are supposed suspend your beliefs in action flicks to some degree that is. This flick is packed with action, if mindless entertainment you are after go see this movie. But if you are capable of critical thinking you'll be disappointed.
July 15, 2017
Very disappointed in this lame movie. Even good actors couldn't save this film.
July 15, 2017
Excellent action flick! Way better than the standard fare for this genre. Well written and well acted. Great soundtrack too
July 14, 2017
I liked the way the music & movie intertwined. I really enjoyed it.
July 13, 2017
For what the movie was, they did a good job with it. One of only a few movies so far in 2017 worth the price of admission and concession. If you don't like extreme violence in movies, pick a different movie. If you do, then grab a friend and check it out.
July 13, 2017
Entertaining! Loved the way the music, action & background complimented each other!! Surprise ending was a plus!